Venue Information – Classrooms and Lecture Halls
Venue Information – Classrooms and Lecture Halls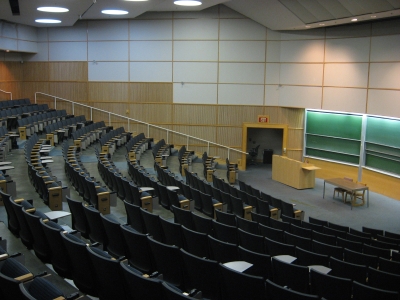 Book smart with Smart Classrooms. General Assignment Classrooms (GACs) and lecture halls are available to reserve when an academic course is not in session. Please contact Student Center & Event Services (SCES) for rooms and availability.
Operating Hours
GACs and lecture halls are generally open Monday through Friday from 7:00 a.m. to 10:00 p.m. and can be opened for events between 7:00 a.m. and 10:00 p.m. on weekends, excluding finals week, campus holidays, and closures.
Temporary Service Adjustments
Lower-than-normal staffing levels cannot keep pace with traditional levels of service the UCI community prides itself on and deserves. We hope this situation is temporary and ask for your understanding. Please accept our sincerest apology as we do all we can to resolve the current staffing challenge. UCI student organizations (RCOs) and UCI departments are our first and highest priority at this time.
Classrooms and lecture halls are currently available for Registered Campus Organizations and UCI departments only
Availability for Events
Academic course-coded classes have priority in GACs and lecture halls. GACs and lecture halls are only available for meeting and events after the academic course-coded class schedule has been finalized for a given quarter. SCES must be given permission by the University Registrar first to book events.
If the University Registrar needs to make an adjustment to an academic course-coded class, your event booked in a GAC or lecture hall may need to be cancelled, rescheduled, or relocated to accommodate the academic course-coded class.
View more information about calendar activity at the UCI Academic Calendar.
Please check below to see when you may submit an inquiry to check GAC and lecture hall availability.
Estimated Booking Availability
Event Date
Estimated Booking Availability

Monday – Friday After 5:00 p.m.
Excluding Finals Week

Week 1 of each quarter

Monday – Friday Before 5:00 p.m.
Excluding Finals Week

Week 4 or 5 of each quarter

Weekends
Excluding Finals Week

Through fall quarter

During Finals Week

Week 9 or 10 of each quarter
Classroom Equipment
Classrooms are standardly equipped with:
Writing board
Projection screen
Instructor table
---
Smart Classrooms
Smart equipment can vary by classroom.