Stories
Student Center News and Highlights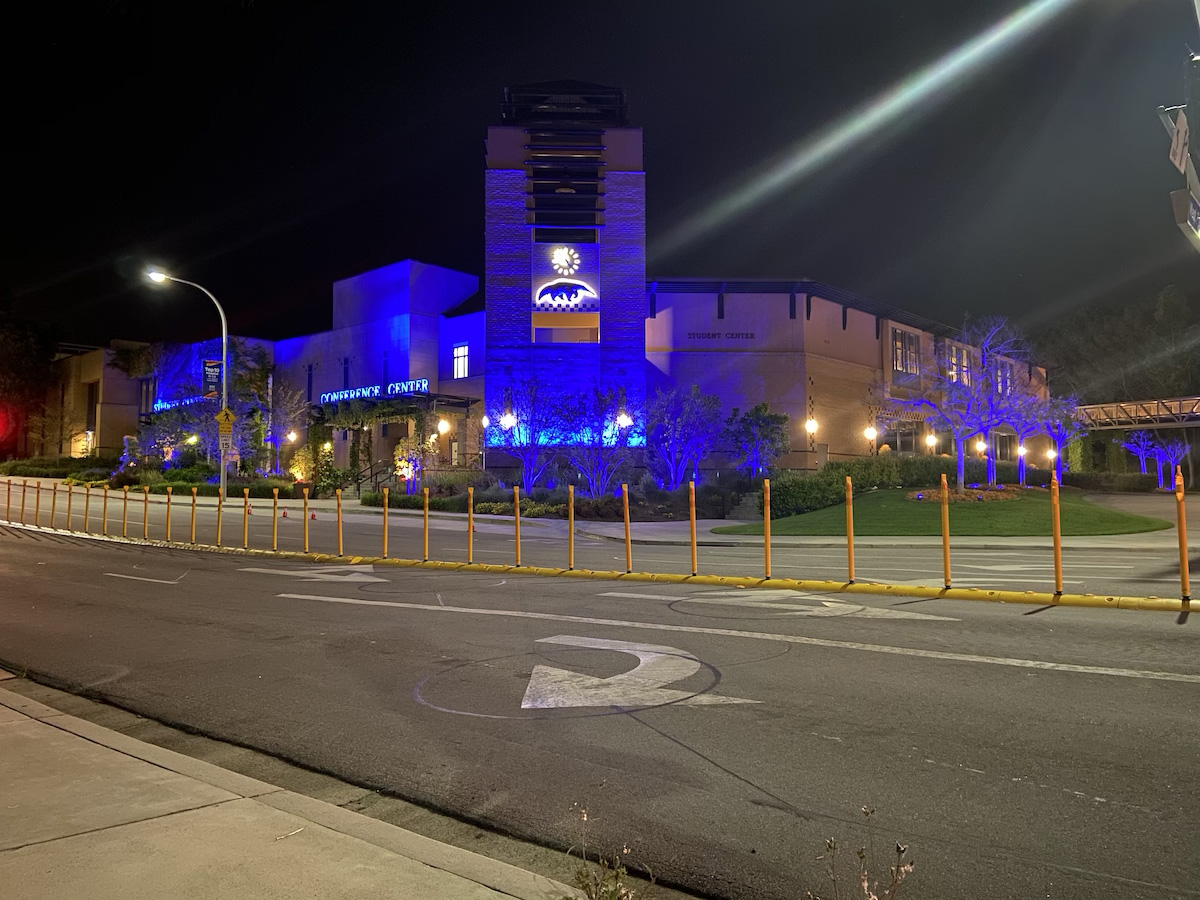 Student Center washes its building in blue light to show support for essential workers.
Posted on October 1, 2020
Welcome to the 2020 – 21 academic school year. This year's "new normal" means a new commuter lounge for students, new ways to promote online events, soft-seating study spaces, and much more. Browse the recent news and highlights to learn about free webinar support from the Student Center now through Oct. 31. View a free, one-hour event recorded live with internationally recognized artist Alisa Singer or take a look at the all-new blog by student writers. The Student Center encourages you to explore our online home as we look for ways to stay connected while physically apart.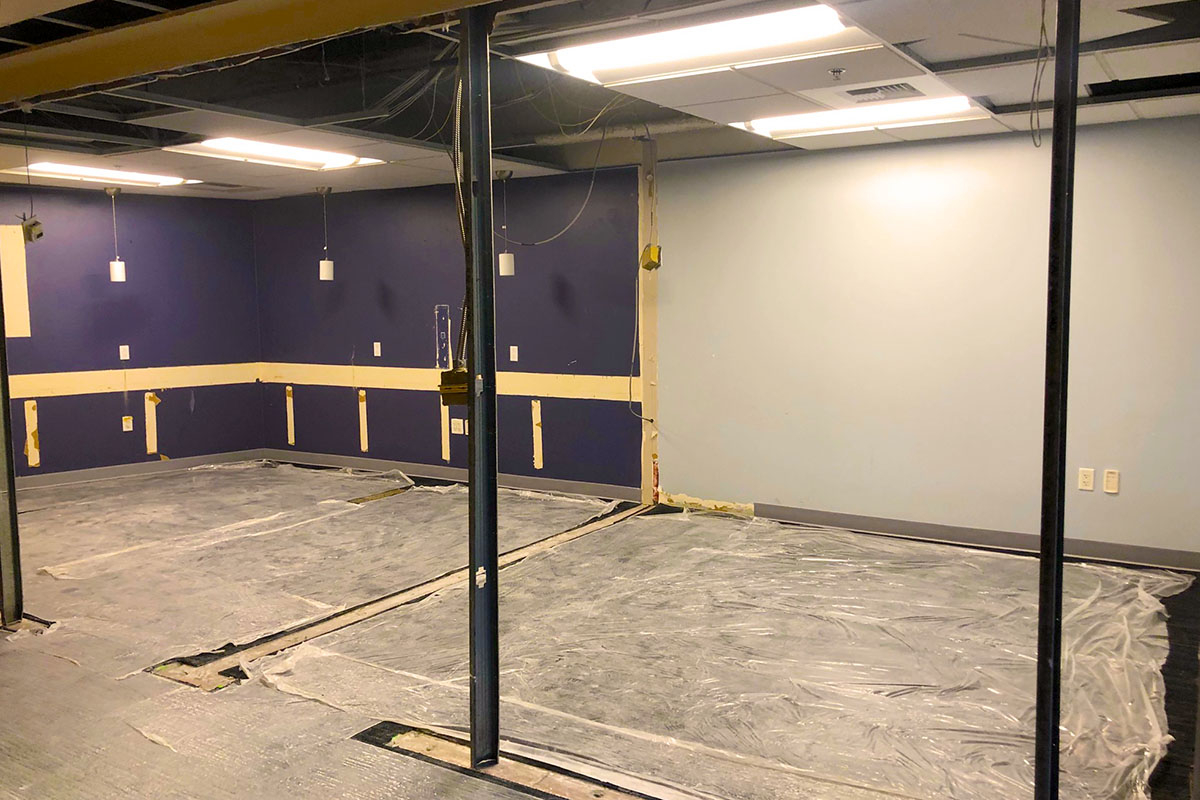 All-New Commuter Lounge
Students' Home Away From Home
Currently under construction, the new commuter lounge is designed to make students feel at home while on the go. Located in the Information Center, charging stations, a refrigerator, microwave, and super comfortable lounge furniture will create a welcoming and relaxing respite for nourishing and relaxing between classes.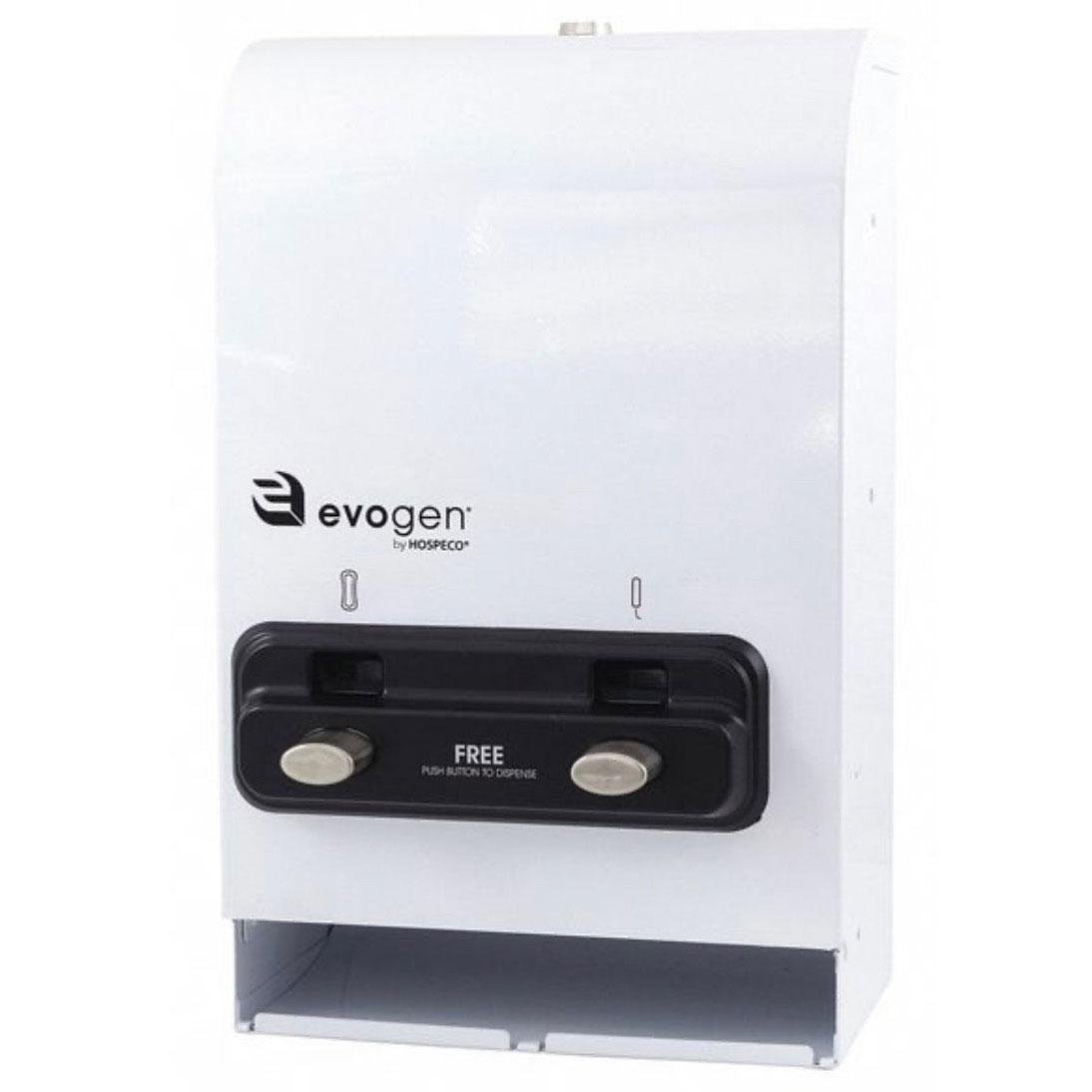 Feminine Hygiene Dispensers
Essentials Delivered
Feminine hygiene dispensers were among the list of concerns students presented at the 2019 Randy Lewis All-University Leadership Conference. The Student Center eagerly obliged being the first on campus to widely install 12 new dispensers making free products available in the Student Center. It really was that simple!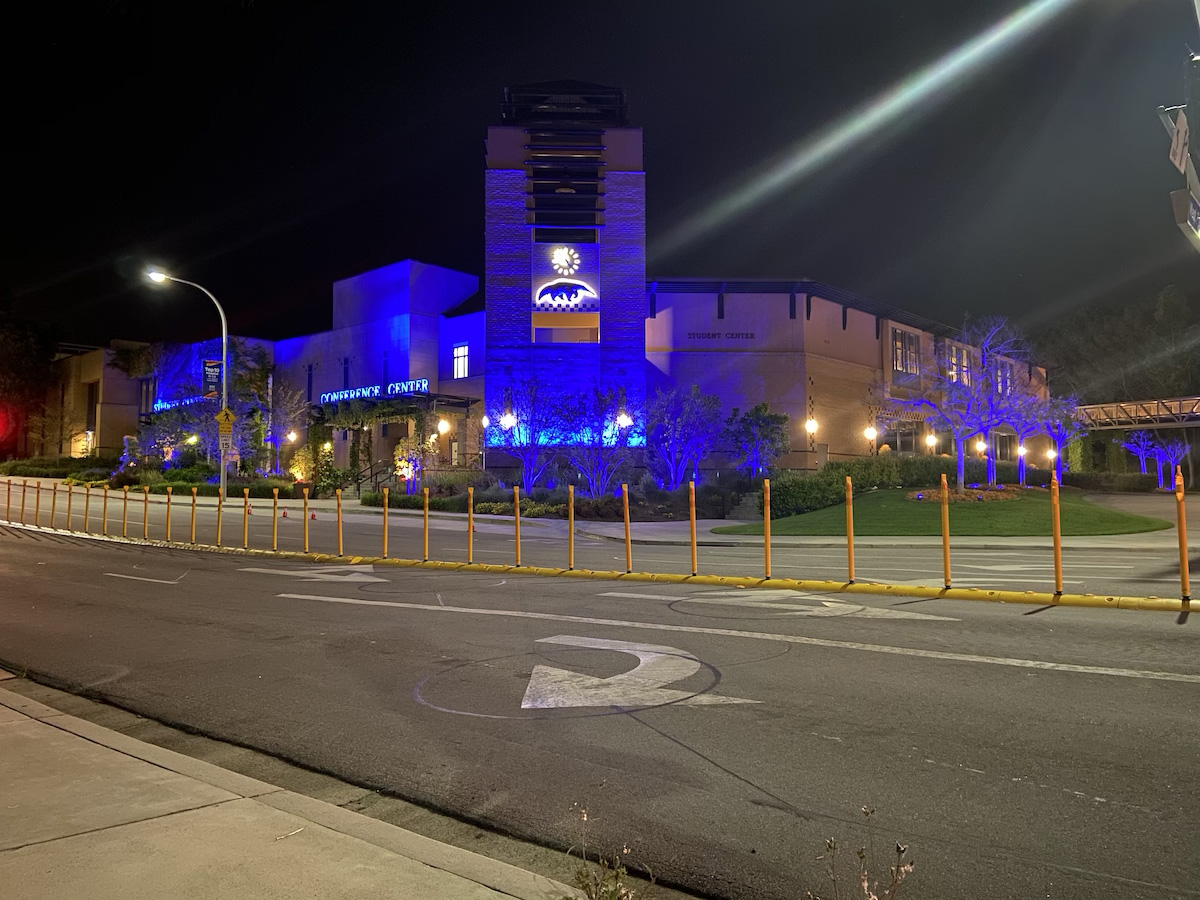 #LightItBlue
A National Campaign
Until the campus returns to site and students resume in-person instruction, the Student Center will remain lit blue. It's part of the global #LightItBlue campaign showing gratitude for frontline healthcare staff and essential workers everywhere helping in countless ways.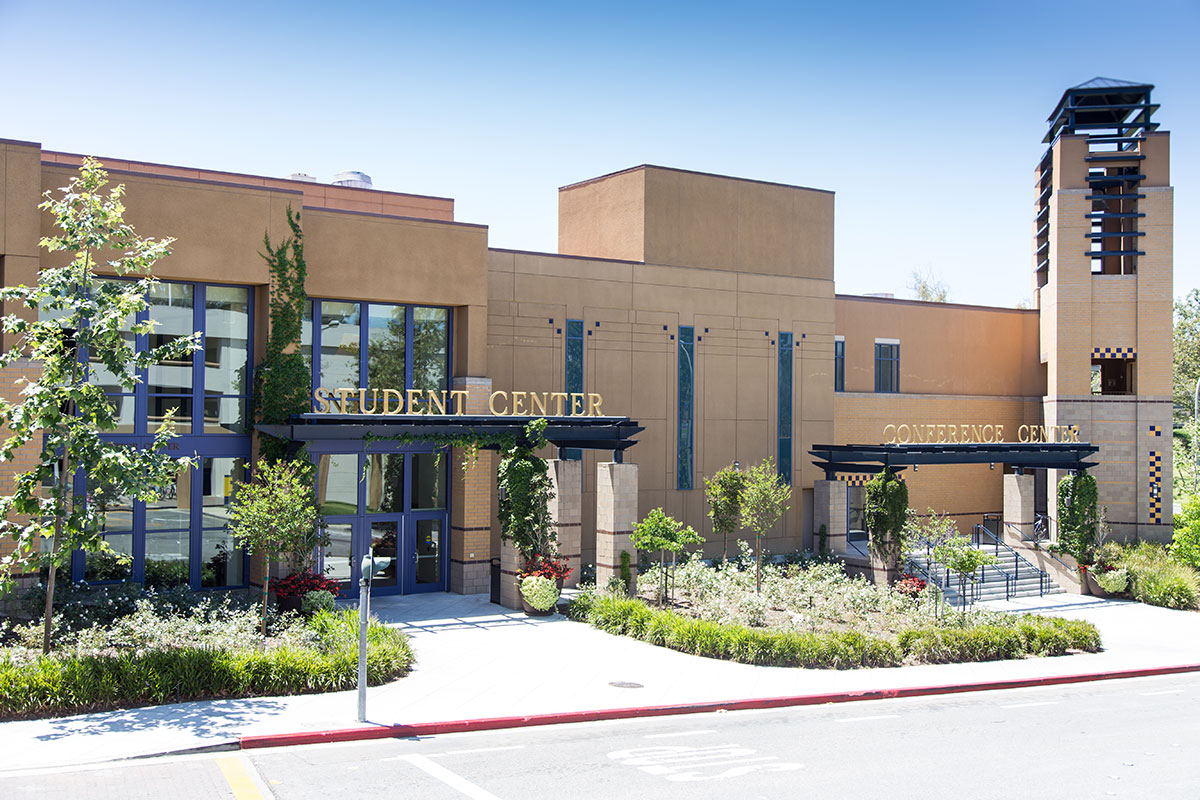 SCES Gives
Donated Food and PPE
Sometimes value is created by what we give. When 53 boxes, totaling nearly 1,800 items, could not be shared with students gone in remote learning mode, it was donated to the FRESH Basic Needs Hub for upcoming food distribution days on campus. And to meet the needs of UCI healthcare providers during the emergency call for personal protective equipment in March—when the pandemic shook the campus with uncertainty and facial coverings were scarce—the Student Center donated 16,800 mL of hand sanitizer, 7,700 gloves, 23 N95 face coverings, 600 dust coverings, 150 protective coats, seven full-body protective suits, and 20 pairs of shoe covers.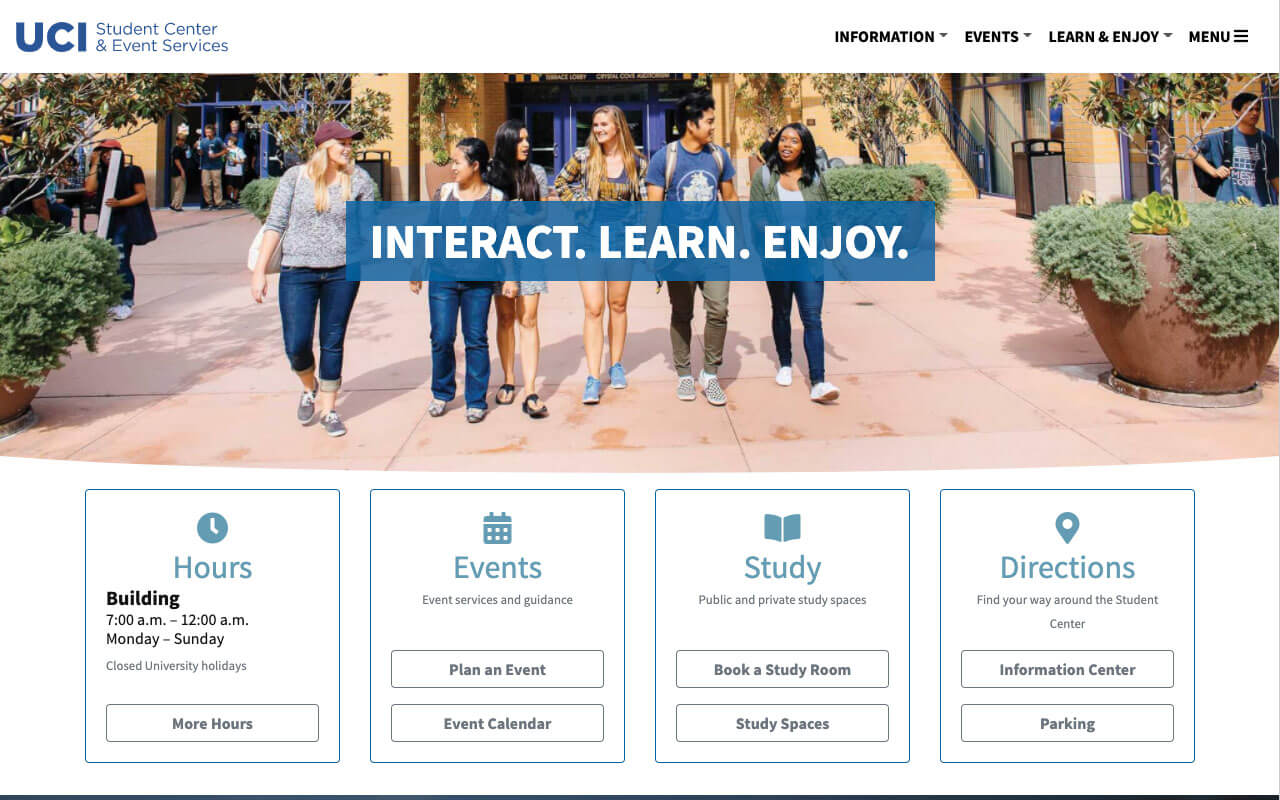 Student Center Website Redesign
Coming Soon
Team goes beyond the basics with innovative website workings. Soon, there will be new ways to plan events, book spaces, interact, learn, and enjoy! All of the pages were designed with an assiduous focus on accessibility and some pages were based on a weeklong Design Challenge with enthusiastic, and equally as talented, UCI student organizations. The Sustainability page puts a fresh spin on the Student Center's renewed commitment to societal responsibility and includes real-time data from smart waste bins. The new Virtual Event pages include free downloads and new product and service offerings.

Award
IACC Green Star Certification
Awarded at the platinum level with one-hundred percent compliance, the Student Center has joined a world-wide effort for greater sustainability. From among some of the most prestigious brands in the Conference Center industry, currently representing eleven countries, the IACC Green Star commitment to sustainability far surpasses traditional green practices in the areas of waste management, recycling, water conservation, purchasing, energy management, and air quality for event venues. Eco-friendly practices are the default to UCI's operations and the Student Center plans to help lead the way for generations to come.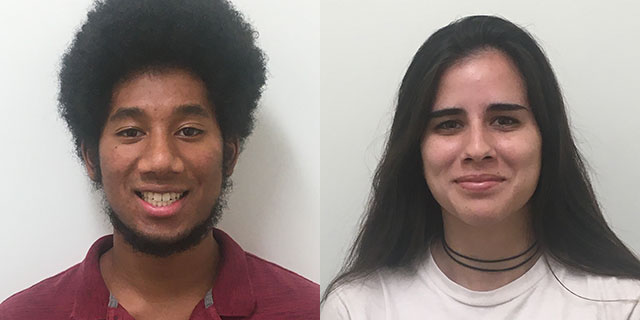 Student Center Blog
The Untold Story
Two English majors Alex Cardona, class of 2020, and Nel Tristan, class of 2021, laid the literary groundwork starting a new team of student writers at the Student Center. They began writing stories for the Student Center blog. It was about finding a voice for stories that mattered to folks on campus. But the team evolved to include the rise of UX writing but also traditional marketing copy and technical writing. Their stories can be read online on the Student Center blog. The hope is to humanize the student experience for site visitors and to grow the team of students with shared literary and business-ready aspirations.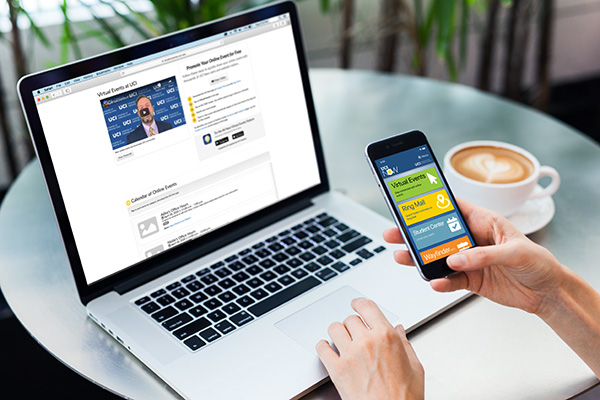 Virtual Events
Free Webinar Support
When in March our lives were disrupted by the "new normal," innovation gave rise to virtual event and planning services. There are countless ways to stay connected while physically apart, including completely new and free ways to promote your online workshops, conferences and events, free webinar support now through Oct. 31, and free virtual backgrounds that will help you make the right impression the next time you're online. Through remote work, many lessons were learned that should not be soon forgotten. See what's happening in the vast, unique territory of virtual conferences and events.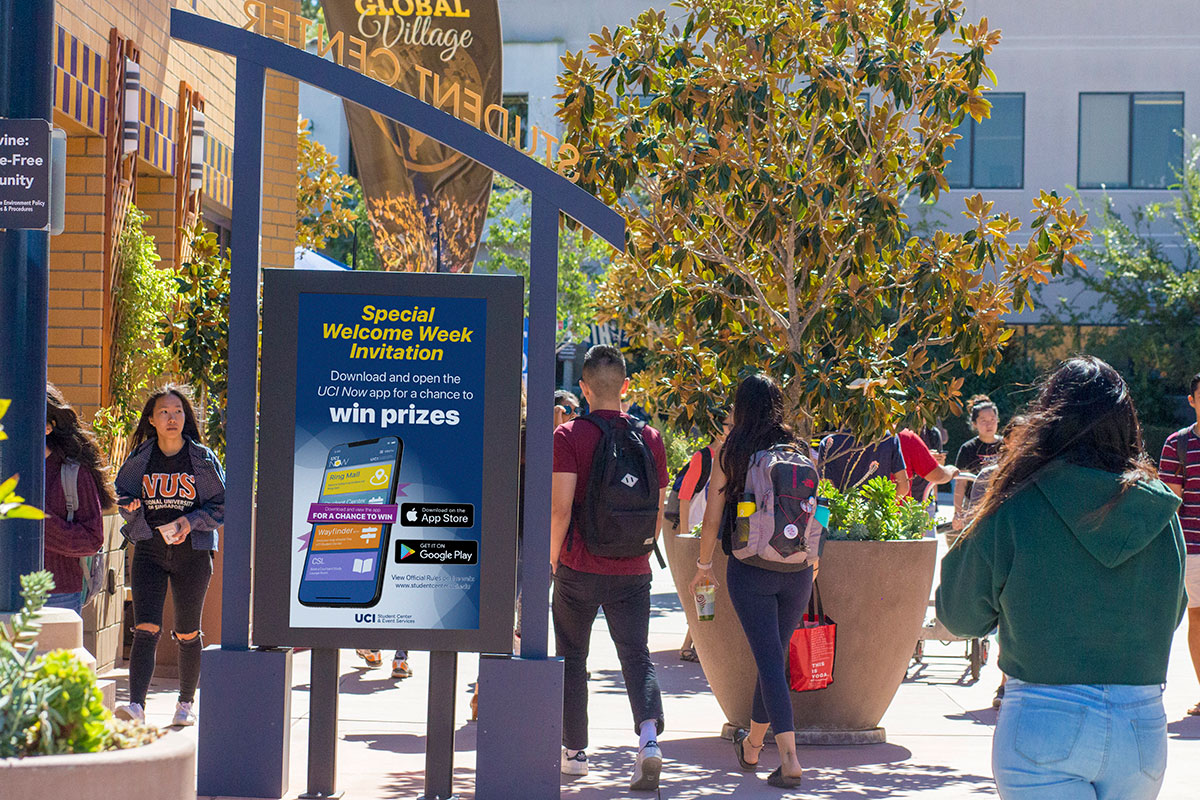 Smart Displays
A Touch of Campus Life
Digital directories on the Terrace near Ring Mall and outside the Doheny meeting rooms near the Anteater Steps are close to completion. The touch screen displays show current campus events in real-time, building maps, and a directory of services, dining, retail, and entertainment options. Now what's happening inside the Student Center can be seen outside by all Student Center guests.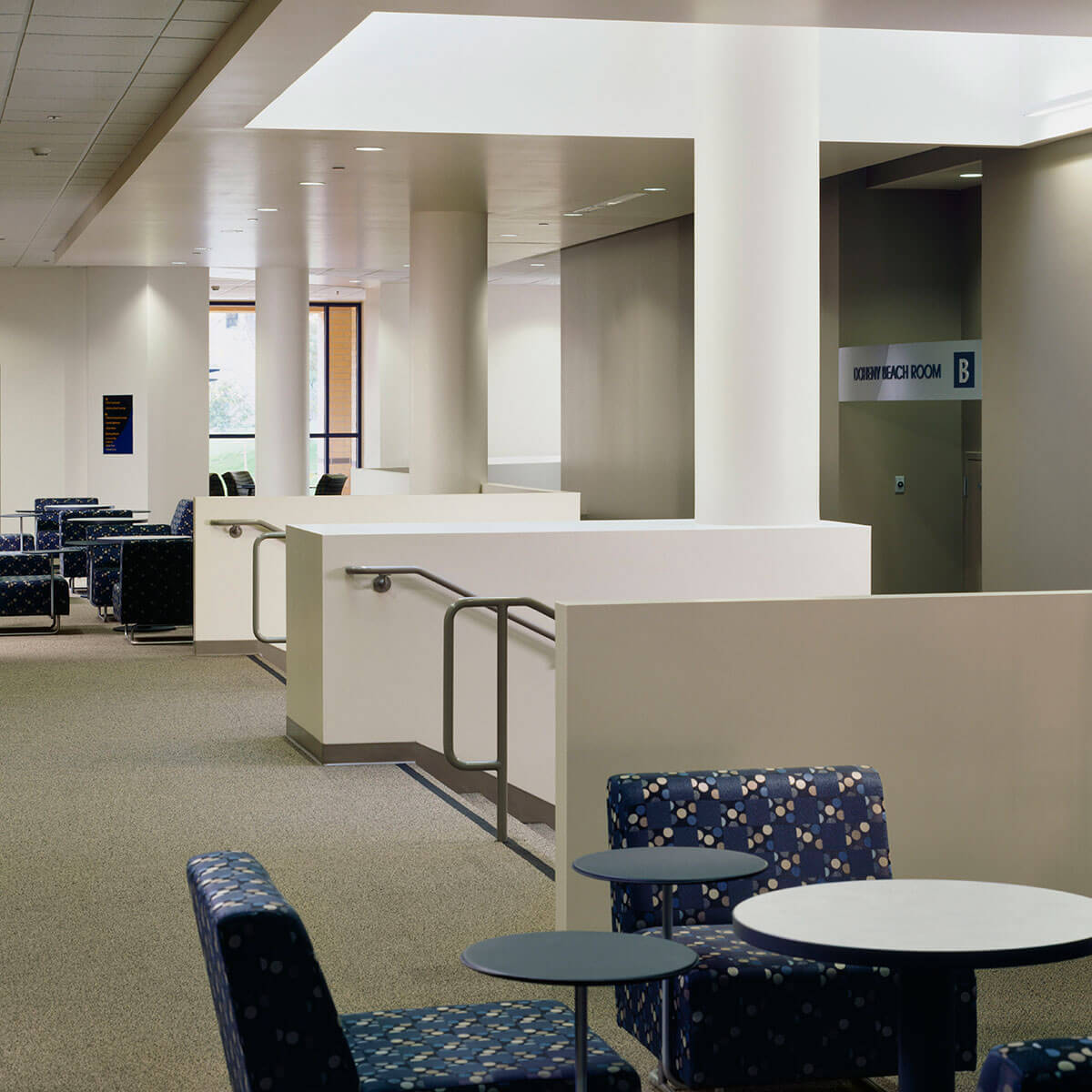 Smart Lighting
See Watts Up!
Adjustable LED lighting system reduces power usage by 25%. The adjustable lighting at the Cross-Cultural Center and most places in the Student Center allow conference guests to adjust lighting to use only what they need while lights automatically either dim or shut off in motionless offices and venues. With most standards retrofitted for savings, the Crystal Cove Auditorium is next in line for smart lighting.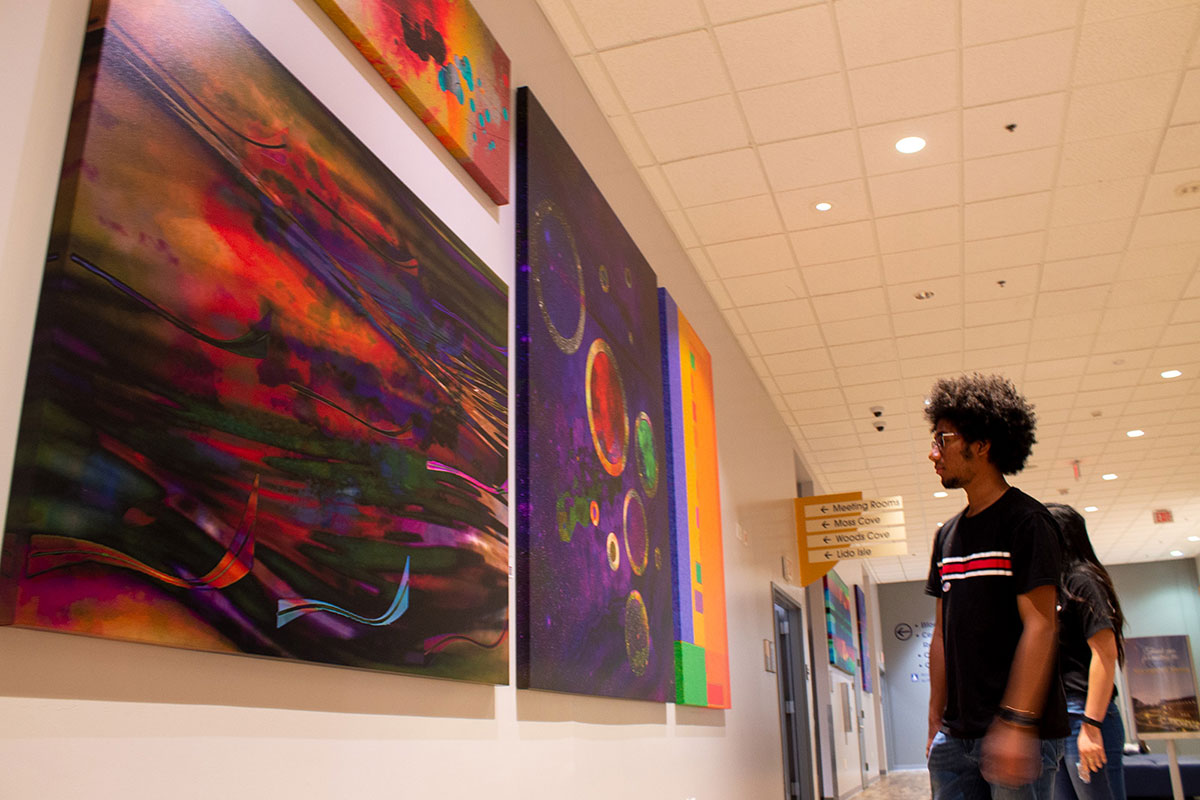 The Art of Climate Change Event
Learn the Science. Love the Art.
Some of the best art you've never seen is currently on display in the Ballroom Lobby. With the campus in remote-learning mode, 11 show-stopping pieces of plus-sized Environmental Graphiti have gone unnoticed.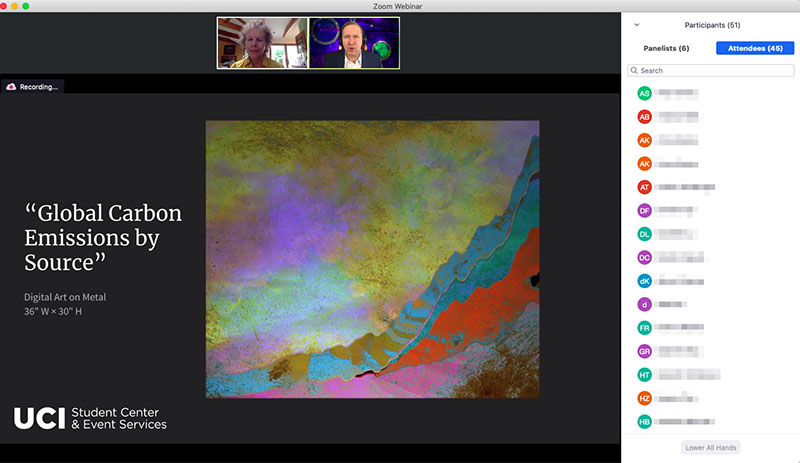 Watch Student Center Marketing Manager Brian Petyo probe the artist's imagination in this free, one-hour event recorded live with internationally recognized artist Alisa Singer. It's arguably one of the most important topics of our time as Singer opens up about the true source of her inspiration and shares some of her newest work on COVID-19 and Climate Change.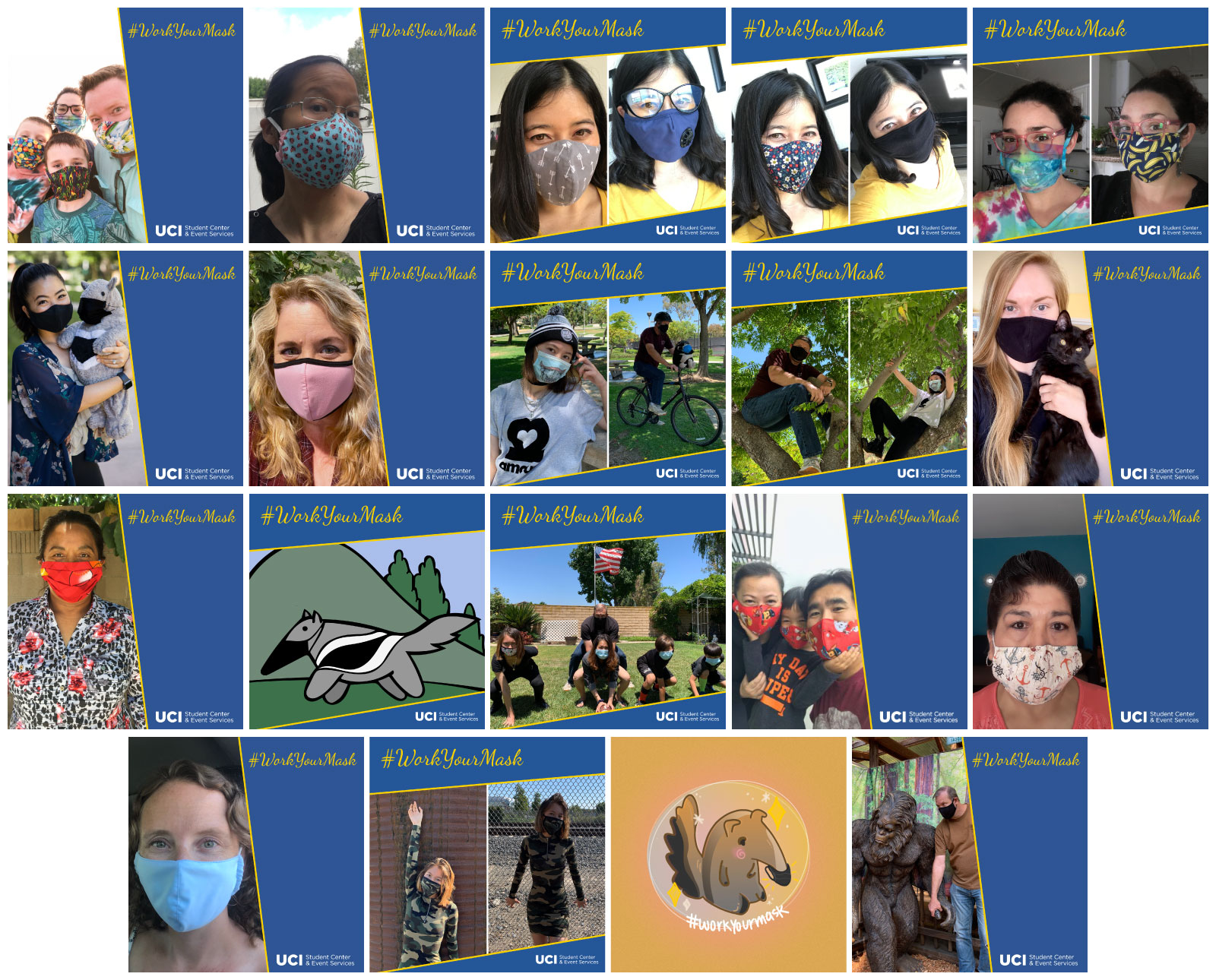 #WorkYourMask
Because They Work
Classy chic this fall is easy. Our long-nosed mascot shows you how. In a series of 17 social media submissions, two of the most popular were original drawings by student UI designer Kayla Yee and Certified Meeting Professional Jackie Kuniyoshi. You'll see Peter the Anteater like never before along with 15 other submissions totaling 25 pictures in support of the campus-wide #WorkYourMask social media awareness campaign. Submissions came from Student Center employees posing with their families, Big Foot, and their pets.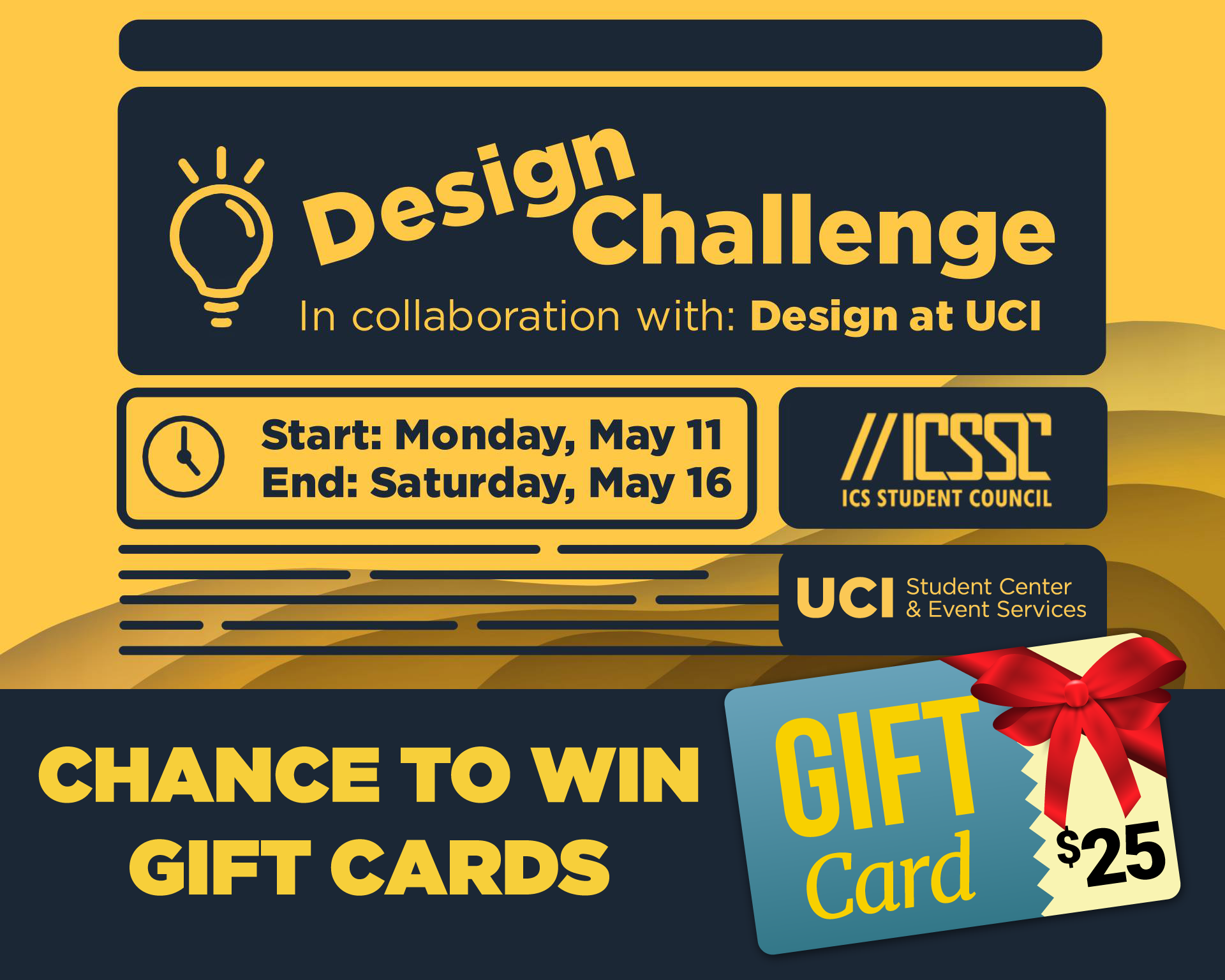 Student Center Teams Up for Design Challenge
Students Win Cash Prizes
UCI design students tackle real-world problems in a weeklong challenge to reimagine the Student Center's online home. Presented by Design at UCI and the ICS Student Council together with the Student Center, Gianna Nguyen won Best Overall Design for her work on the campus organization's page. Marawin Chheang and Debi Vu teamed up to win the Most Aesthetic category with awards give to Ryan Hartanto for the Most Creative design and Yoo Keoung Oh for the Best Accessibility award. Their work was used in the all-new and improved Student Center website redesign launching soon.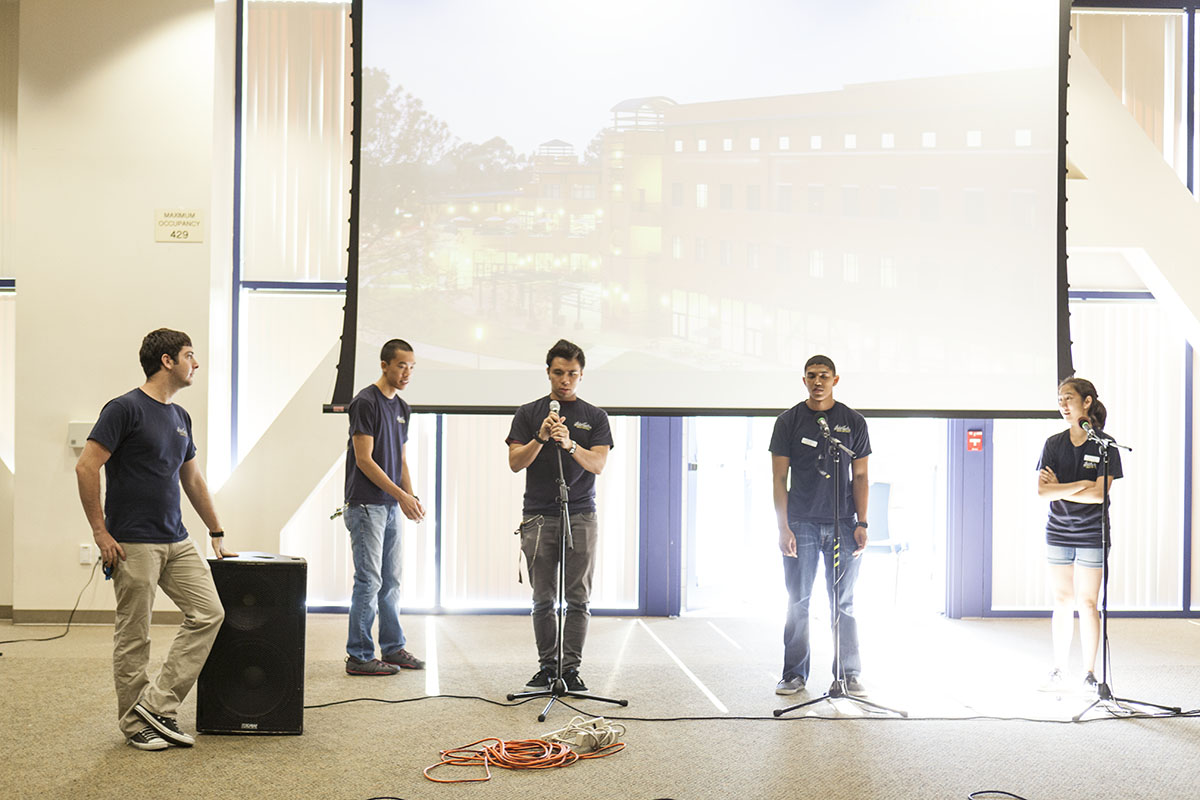 Employment Opportunities
Apply Online
It's easier than ever to apply online for a student job at the Student Center. To view a list of openings, visit the Employment Opportunities page today. Fill out an application and upload your résumé. If a position is currently unavailable, set a reminder to check back often as positions open throughout the year.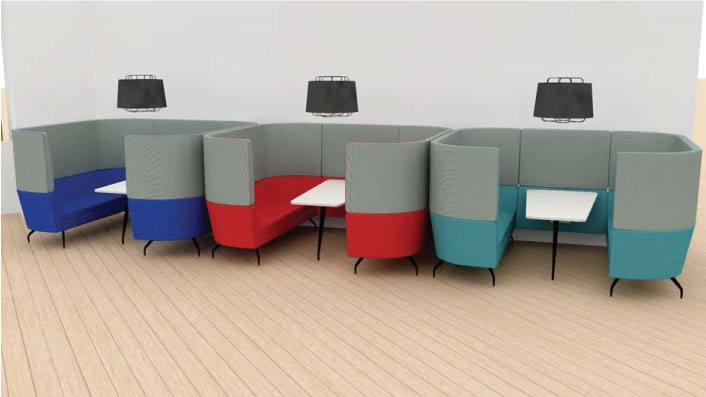 New Lounge Furniture
Connected in Comfort
Socializing lobby space means furniture designed to bring students, faculty, and staff together with areas for interactive group discussion but also areas for quiet reflection. Installed throughout the Student Center, you'll find soft-seating arrangements with charging stations, ergonomic designs, comfort, and a contemporary style.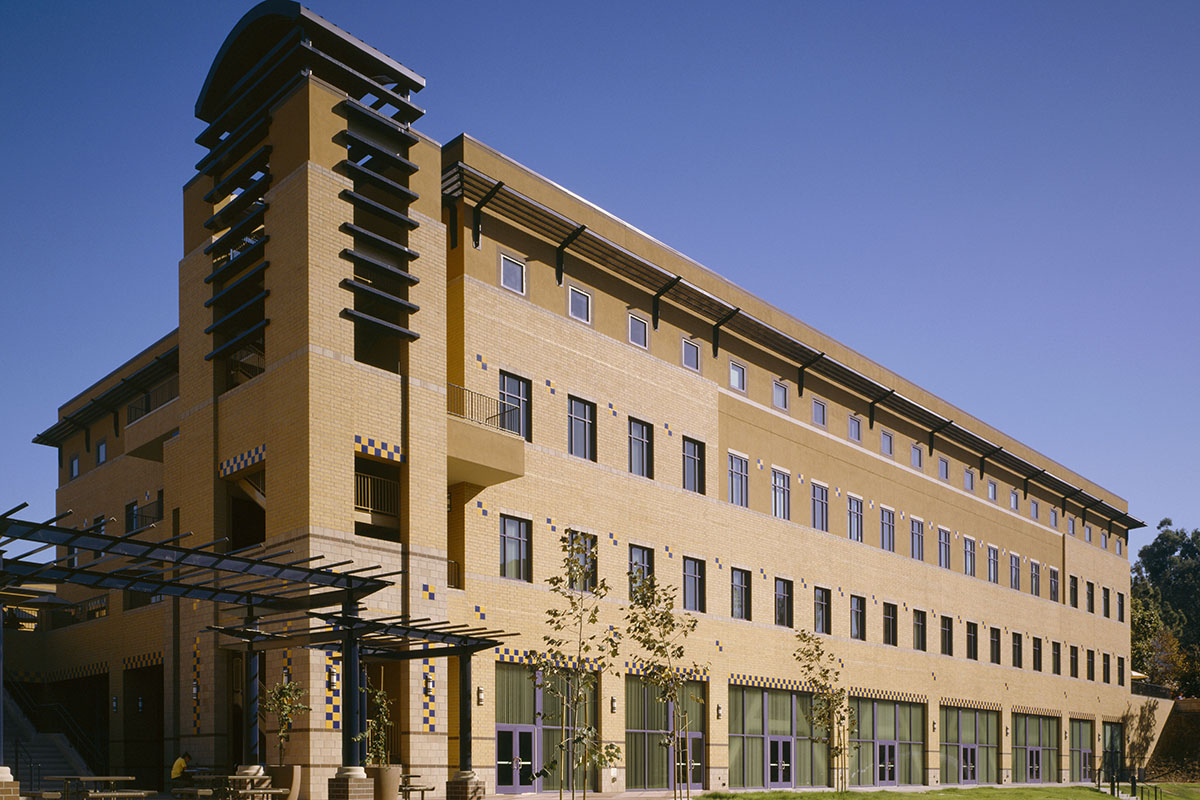 Window Tinting
More than What Meets the Eye
Plentiful daylight can be healthy and productive. But a vast expanse of large windows is expensive to manage. By tinting hundreds of windows in Student Center North and Student Center South buildings, energy loads were decreased and outside heat entering the building reduced by 95%. Additional benefits include an eye-catching aesthetic and added security. This is all part of making sustainability a part of the Student Center's operations.

Student Center Board of Advisors Logo Contest
Computer Science major Lee Bahir wins the Student Center Board of Advisors logo contest. Chosen from among 54 graduate and undergraduate submissions, the new logo will debut this fall on the board's all-new website to include a lineup of activities and leadership opportunities. Congratulations also to second-place winner psychology student Cindy Cao and third-place winner juris doctorate candidate Pk Padilla.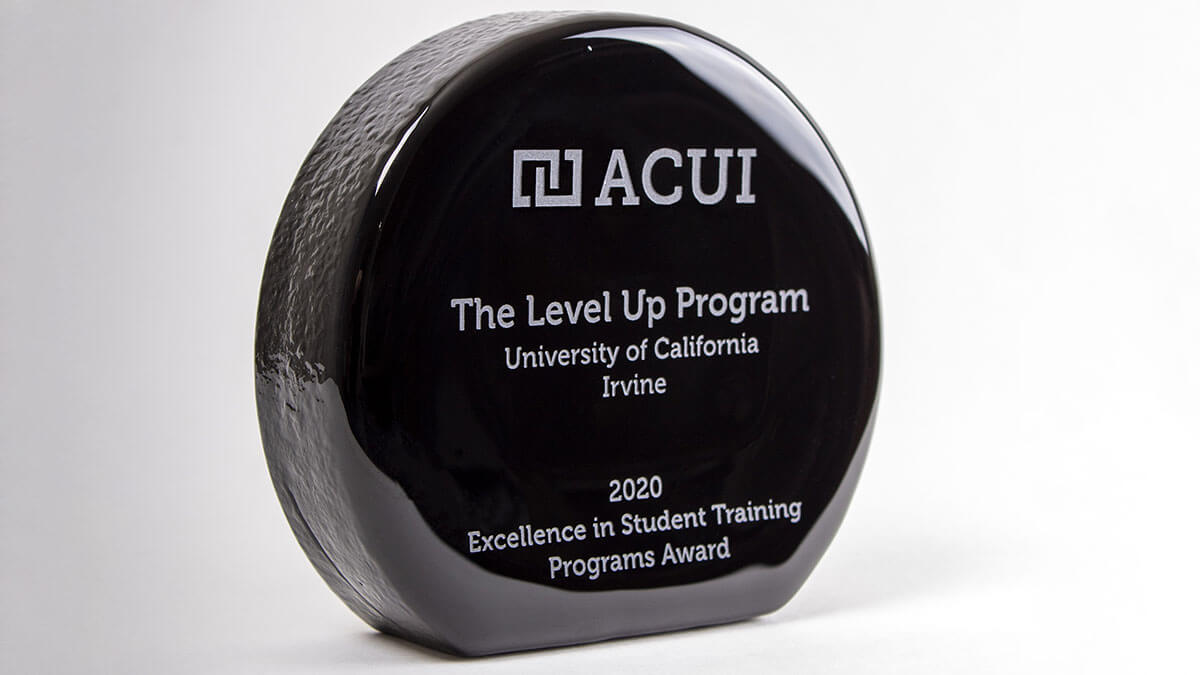 Award
ACUI Excellence in Student Training Program
The Association of College Unions International (ACUI) recognized The Level Up Program and website with the 2020 Excellence in Student Training Program award. The program was selected as a model to other campuses as a creative educational program having a positive impact on student performance and capabilities. The program itself being built in large part by UCI students under the guidance of Student Center leadership and management is direct evidence of the program's ability to get the most from students.
Level Up is a student-made, user-friendly web application for tracking the professional development of the organization's employees.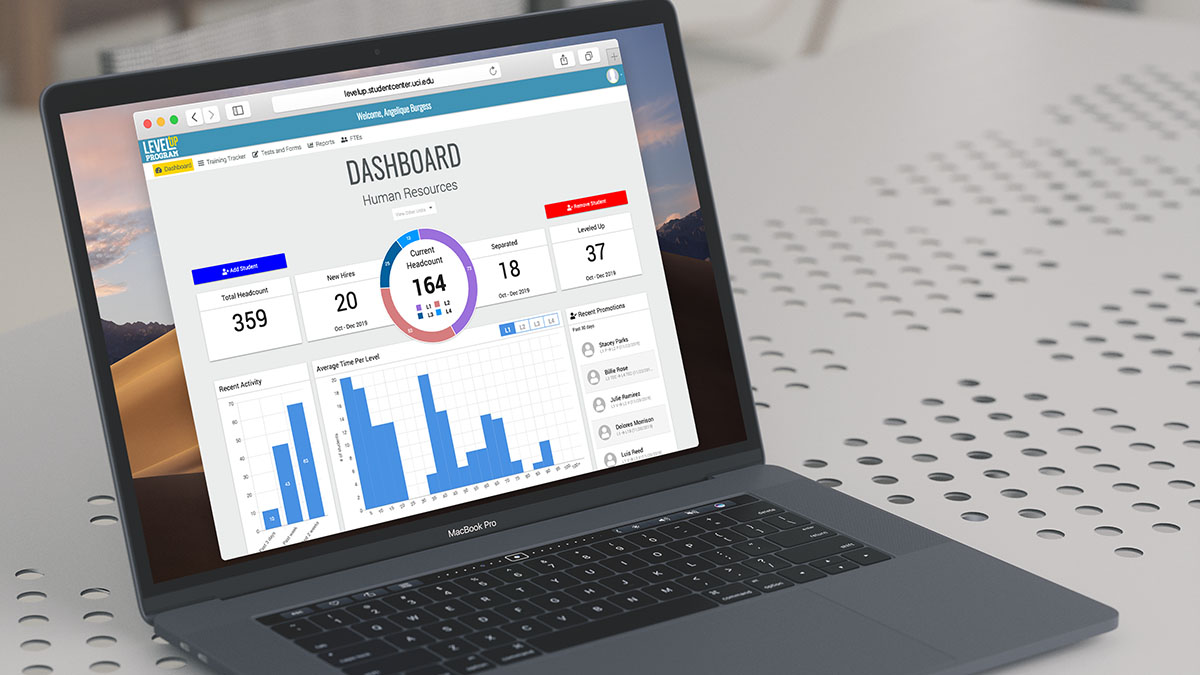 Award
NACAS Innovative Achievement in Auxiliary Services
The National Association of College Auxiliary Services (NACAS) recognized The Level Up Program as an imaginative and unique professional development tool that can be adapted at other institutions preparing students for success now and for all future professional settings. The program consists of a custom-designed and built website with administrative dashboards and real-time, interactive pages for students.
Level Up is a student-made, user-friendly web application for tracking the professional development of the organization's employees.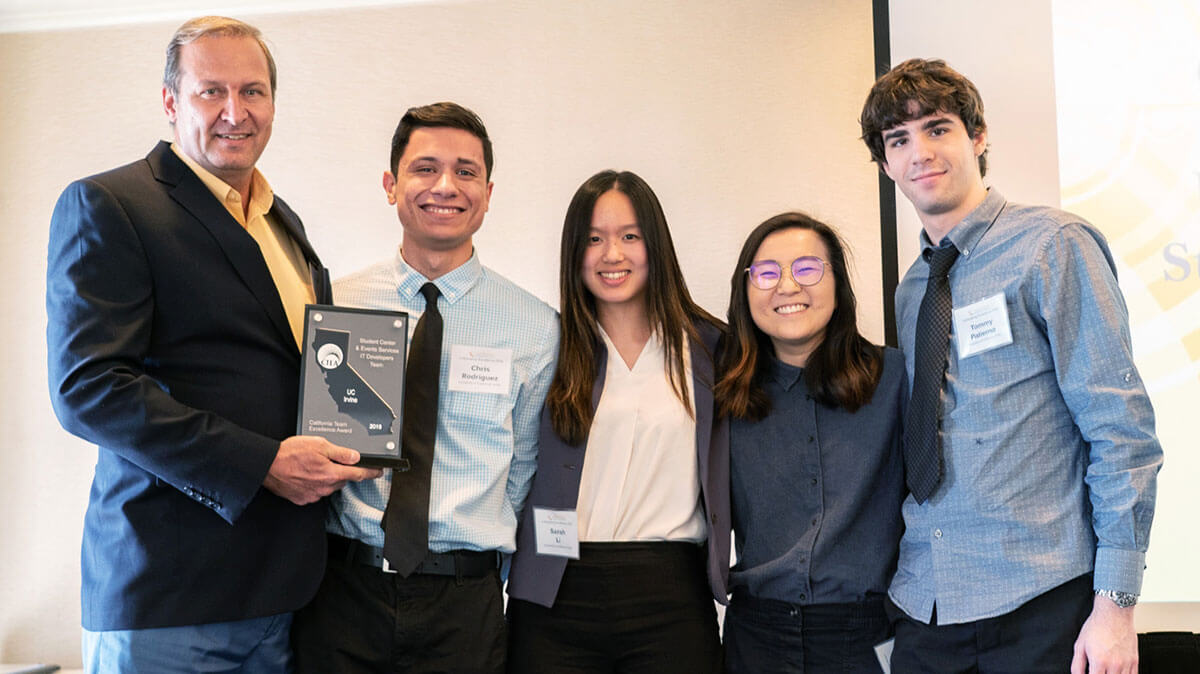 Award
California Team Excellence Award
It all started in a closet with a team that dared to be different and that tried to make a difference. Learn what students Tommy Patierno, Chris Rodriguez, Sarah Li, and Rebekah Li have to say about their team being recognized as the sole recipient of the California Team Excellence Award. Student writer Alex Cardona shares the team's secrets on this extraordinary journey from an AV closet to the Balboa Bay Resort to statewide recognition for performance excellence. "It's not common and it's not sense" says Marketing Manager Brian Petyo. Read the full story for more.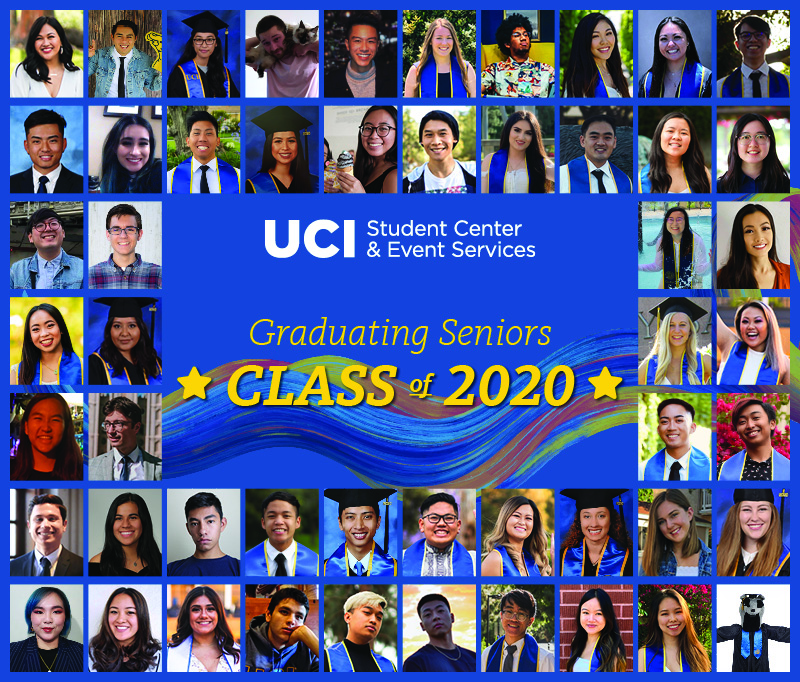 The Student Center Celebrates the Class of 2020
Off Script and All Online
It wasn't the graduation they had expected. So staff put together a fun-spirited Instagram collage with a special message of thanks. And every hour on June 12 averaging about seven posts per hour, 51 graduating students were recognized with individual pictures and senior quotes. That's over seven hours of Instagram and Facebook posts for a total of 102 posts to commemorate the occasion. See the posts, a virtual commencement video, and much more on the Class of 2020 Virtual Commencement web page.