Stories
Hungry Hungry Anteaters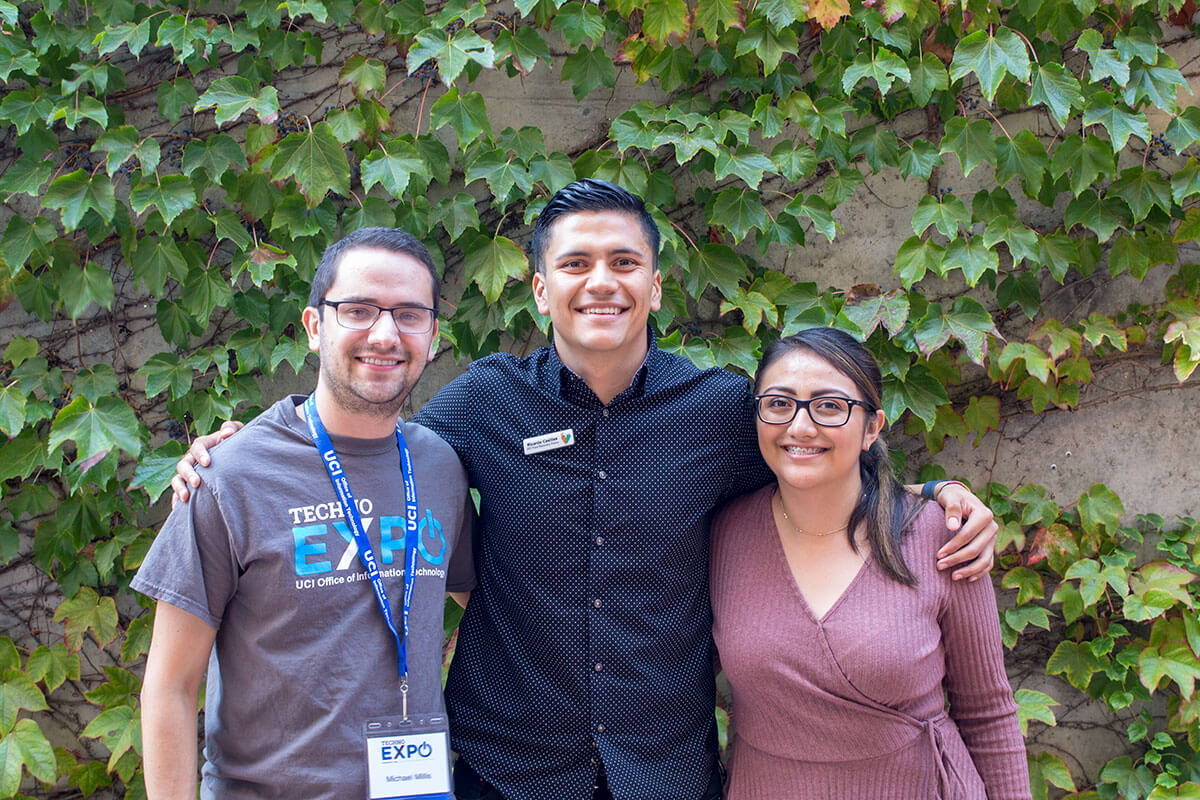 (From left) Michael Millis, Ricardo Casillas, and Mariel Hernandez
Posted on February 13, 2020
by Nel Tristan
The tables are set.
Piles of food wait in chilled lobbies, under the starlight canopy of Paul Merage business school, or perhaps behind the polished glass of Barclay Theatre. Inviting stacks of pastries or vats of catering, all waiting for the guests to arrive. It's enough to make your mouth water as you pass by, certainly worth sparing a much longer glance than necessary, if only to wonder what all the food is for.
Wouldn't it be nice to walk up and claim a meal whenever you want? Isn't that the dream for most college students?
FRESH Basic Needs Hub has got your back.
Their text-based platform, Zot Bites, sends out text messages to students registered with their system, letting them know whenever there is some leftover grub from an on-campus event. So long as the caterer is partners with Zot Bites, all students need to do is show up on time to get their free meal after receiving the text.
Guided by Andrea Gutierrez, director of UCI's FRESH Hub, with Michael Millis handling the development of the platform and Ricardo Casillas aiding the project, free meals are made available to the patrons of FRESH Hub. "My hope is that as many students as possible find out about this application and sign up!" says Millis. "So much unused food goes to waste on campus and I would love to know that it goes to students instead of the trash."
The system was first implemented successfully by UC San Francisco, and other campuses have been following their lead in their mission to provide basic needs to the student body. "The model existed," says Gutierrez, "so basically from there on I just started looking into, 'how do we replicate the program at UCI?'"
The day of the release, Millis was nervous about the success of his application. "I was an exhibitor at the Tech Expo, and at the end of the event we had a bunch of leftover food. Wayne Fields, my boss, coordinated with the event lead to ask if we could send the first text message to Zot Bites users, so I ran over to FRESH Hub and Ricardo and I sent out the first text! It was nerve-wracking, but overall, I had faith in my code," says Millis.
The first recipient of a Zot Bites meal, Mariel Hernandez, was excited to play a part in the platform's first official launch. As a FRESH Hub employee, Hernandez is familiar with the plight of students who lack ready access to meals. "I think it is one of the most resourceful ideas I have witnessed both as an employee and as a student who frequents the space for groceries. It is a symbolic process that I believe will definitely impact food waste on campus along with food insecurity among college students." Now, students have another option for cheap eats around campus when the budget gets tight.
Zot Bites ties in with UCI's sustainability initiative of zero waste, ensuring that no food goes to waste when it can be put in the hands (and mouths) of the Anteater community; however, the more pressing goal of the platform is to provide meals to students. "The part we are very interested in is making sure that more students have access to food," Gutierrez says, "specifically, because these foods are good to eat still. It's providing further access to food to students who might need it."
Event directors account for any additional time set aside at the conclusion of an event, so that students have time to pick up any leftovers they have. Signing up for the application is as easy as visiting their site and hitting the "Register" link. "I got all my friends on it," Hernandez says. "It gives me a warm feeling to walk around campus and see my peers react to a message from Zot Bites. It inspires me to continue advocating for food insecurity and find ways to make food more accessible." So long as you've paid a visit to FRESH Hub within the last twelve months, you can opt into the program and start receiving notifications whenever there are meals available.
Spread the word and help support FRESH Hub's efforts to secure basic needs for the community.