Stories
Get More from UCI—Download the UCI Now App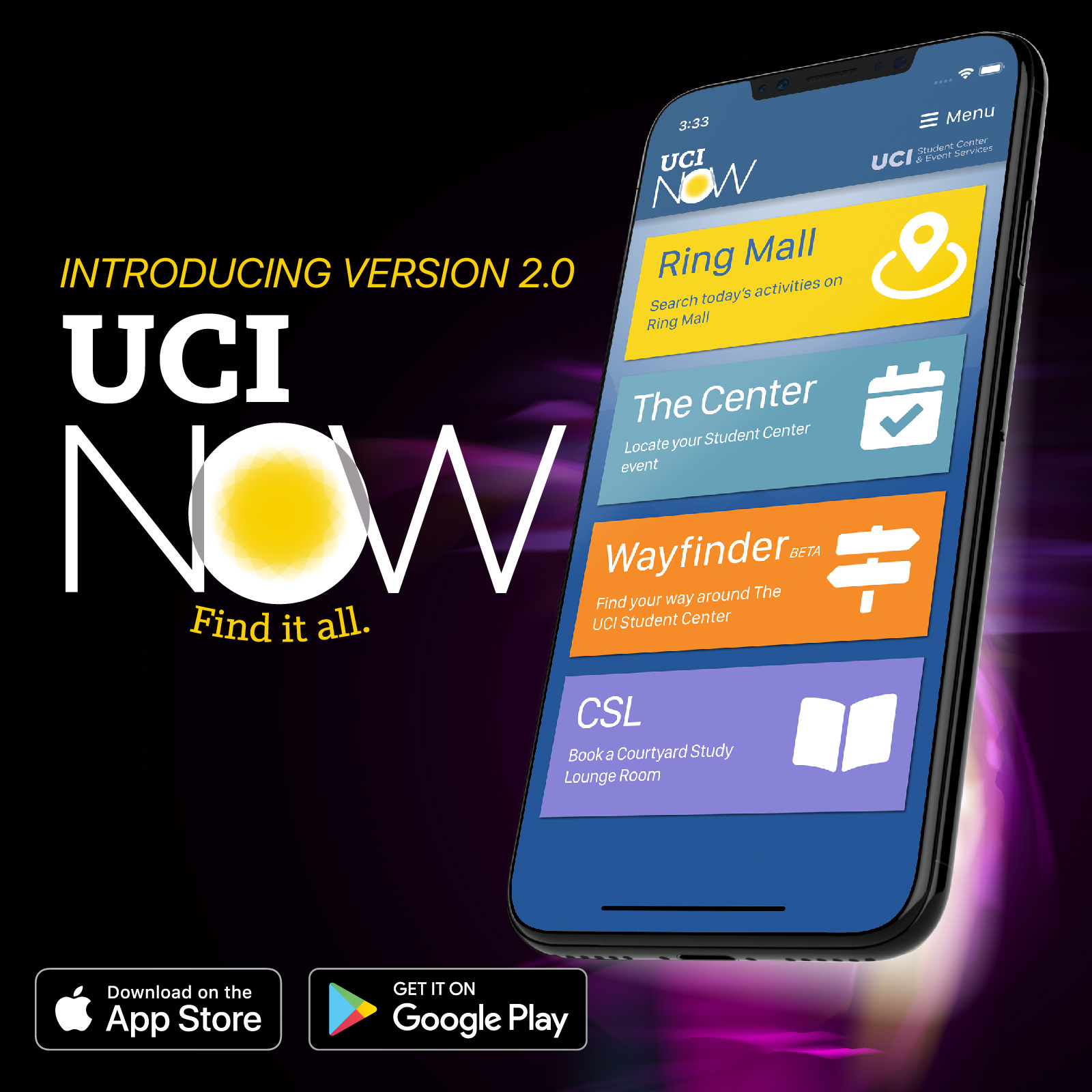 Get more from UCI with the free UCI Now app
Posted on September 18, 2019
UCI Now app is a free app intended as a service to help the UCI community navigate events in the Student Center with a new option for students to book Courtyard Study Rooms and a convenient way for campus organizations to promote their Ring Mall activities. The app was designed by students for students in cooperation with Student Center & Event Services and ASUCI Visions.
The "CSL" Feature
Provides any student with a UCInetID easy access to real-time availability for Student Center study space. Check availability, confirm, view, or cancel reservations on a first-come, first-served basis any time, anywhere you have an Internet connection. Students can book smart, plan ahead and reserve up to 40 hours each. Located on the first floor of the Student Center, The Courtyard Study Lounge rooms vary in size and include complimentary Wi-Fi, whiteboards, and power.
The "Wayfinder" Feature
Provides step-by-step directions and visual references to help users find their way around the Student Center and locate convenient services. This feature is a technological first on campus that uses 250 Bluetooth beacons located throughout the Student Center to help visitors navigate the unique challenges of the Student Center's architecture. It is a source of pride for the student-led team of developers and technicians. You can read their Customer Success Story here.
The "Ring Mall" Feature
Is a real-time list of activities on Ring Mall with maps to help you locate an event. Search and sort activities by location, organization, time, and type of food sale. Sponsoring organizations can use the app to edit and promote their event by including a description of their organization, their activities, pricing, food items for sale, and payment options.
"The Student Center" Feature
Is a calendar of events in a convenient list view. Users can view and search two weeks of scheduled events booked through Student Center & Event Services. By selecting a date, the app searches all currently scheduled events and returns a list with the most current information available. The list of events includes an event title, room, start and end times along with a link to "Take me there!" for step-by-step directions to your venue location.